Java over at
Never Growing Old
started this great "meet me monday" meme! I love getting to know different bloggers, but you don't want to start asking a bunch of questions - so Java is doing it for us :) Please join!!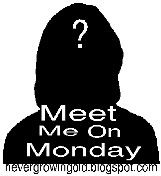 Here are this weeks questions and answers:
1. Are you a collector of anything?
I absolutely LOVE snowmen and have piles of them!! Used to leave them up all year, but the "men" started complaining, so I couldn't even take a picture, as they are all boxed up for now.
I also collect handmade lotions and soaps! The Bathroom smells nice :) My favorite soap shop is Bovine Bubbles & Hogwash!!
2. Do you have any tattoos or piercings?
I have pierced ears, but have to wear 14k gold earrings, so only have hoops in most of the time.
3. What is your favorite salad dressing?
Creamy Poppy Seed! YUM!!
4. What was the last thing that you ate?
A few Pringles Chips.
5. What was the last movie that you saw?
The Blind Side. Amazing movie!! Really a must see.