I found another amazing blog -
Never Growing Old
! This has been my motto for the last 23 years!! Only found this blog yesterday, but it's now on my "to read" list! She has also started an "OVER 40 Club" for us older bloggers. Definitely joining that. Isn't the button wonderful?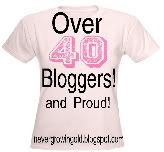 Every Monday she posts "Meet Me Monday" where you can copy 5 questions and answer them on your own blog. It's a way to get to know everyone. Here are today's questions and my answers:
1. How many brother and sisters do you have?


One Brother and One Sister (I'm the oldest)



2. What is your favorite thing to do?


Anything on the computer :)



3. What countries have you visited?


USA (I live in Canada), Mexico, England, Netherlands, Germany, Switzerland, Italy, Barbados (honeymoon)



4. Are you a morning or a night person?


Definitely Morning!! Best time of the day for some quiet me time.



5. What's your favorite cereal?


Apple Cinnamon Cheerios
Check out the blog - wonderful photo's of their vacation happening now, recipes, and Follow Friday for bloggers over 40! Wonderful blog :)


Did everyone have a good Father's Day? We had a very relaxing one - which is good. Our oldest surprised us by coming home for the weekend. Of course he didn't know that Sunday was Father's Day, but it was still good to see him. Saturday morning I noticed that he was going upstairs with the camera. Had no idea what he was doing, but later found out that he wanted to post pictures of the view from his bedroom windows on Facebook. I guess people where wondering why he came home for the weekend :) These are his photos:


One of his friends suggested that he now take photo's of the view from his window when he's in the city. He didn't think anyone would want to see the back alley behind the house and the neighbors back door :)

Did you do something special for Father's Day? How was your weekend?