Do you sell on the internet? Need a wonderful affordable place to advertise your shop/store? Here it is:


Do you love to read but can't afford to buy all those books? Here is a site I just found out about where you can swap your old read books for something new!
Book Mooch
.
I love looking at all the different tutorials on the net. This blog updates with new ones on a very regular basis. It's one of the "must read" blogs on my list:
Burnt Mill
is having a give away on their blog! I have some soap samples from this shop - I LOVE THEM!! Their soap is really nice, lasts a long time (even the 1 oz. sample sizes) and it looks amazing!They are giving away 3 bars of soap - and you can pick the scent!!
I love this blog!! Henrietta has give aways, fun posts, recipes (you can never have to many!) and updates almost daily!

Another blog I love to read. Kim makes me laugh with each post she writes!!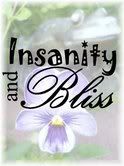 Do you have favorite blogs? I would love to know which ones you love to read, always looking for new ones.