Have you joined any blog hops? I've tried a few, but they seem to pretty much be a waste of time. With the ones I did try - I would spend quite a bit of time checking out all the blogs, and commenting, only to have maybe 2 or 3 of the blogs comment back. So why bother joining a blog hop - if you aren't going to return comments?

Does anyone know how many there are? There seem to be more popping up every week. They are almost becoming annoying. You want to check out a blog only to find out that on a certain day all she posts are links to the different blog hops. There is no way one person can join 8 blog hops in one day and do them justice.

I've joined Java at Never Growing Old for Meet Me on Monday, well - because I needed something to post on Monday and just because it's fun. She always has cool questions we get to answer to find out about each other. There seems to be a pretty good following and people are pretty good about commenting back. Though you always get those that don't.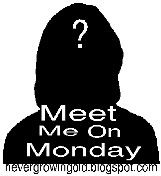 What's the point? Does anyone know? Have you joined any blog hops with some success?