Java over at
Never Growing Old
started this great "meet me monday" meme! I love getting to know different bloggers, but you don't wa
nt to start asking a bunch of questions - so Java is doing it for us :) Please join!!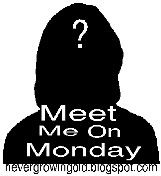 Here are this weeks questions and answers:
1. What is your favorite kind of potato chip?
2. Do you make your bed everyday?
Hardly ever. Just sorta through the blanket over. I know - its horrible :)
Actually - I do make it before I get in, don't like uneven crumpled sheets, drives me nuts.
3. How often do you go to the hair salon?
I get 4-5 inches cut off every 9 months or so - once it's past my waist.
4. What do you dip your French fries in?
Mayo and Ketchup!! YUMMY!
5. Do you shop with coupons?
Sometimes. Coupons just aren't that abundant in Canada. Not quite sure why we hardly ever get any. Do use some that we do get if they are for something useful.
~~~~~~~~~~~~~~~~~~~~~~~~~~~~~~~~~~~~~~~~~~~~~~~
Time to link up and meet!!
This is a blog hop so if you want to put the linky on your post just click the "Get the Code" at the bottom of the linky.
Your link MUST include your Meet Me On Monday post or it will be deleted!
Remember if you don't have a blog or if you just want to post your answers in the comment section then that is fine too!
~~~~~~~~~~~~~~~~~~~~~~~~~~~~~~~~~~~~~~~~~~~~~~~~~~~