Java over at
Never Growing Old
started this great "meet me monday" meme! I love getting to know different bloggers, but you don't want to start asking a bunch of questions - so Java is doing it for us :) Please join!!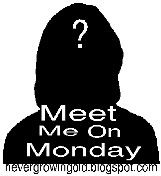 Here are this weeks questions and answers:
1. What is your favorite dessert?
Anything Lemon!! I make this one a few times a year. Though I leave the whipped cream white. The recipe can be found
HERE
. Maybe I'll make it this week :) Yum!


2. What do you wear to bed?
Well - you get the picture :)
3. Do you get regular manicures/pedicures?
Never had one of either. Wouldn't pay to get them when I live on a farm.
4. Did you play any sports in high school?
Badminton and baseball.
5. Do you have an iPod?
No - right now I don't even have a cell phone :)
~~~~~~~~~~~~~~~~~~~~~~~~~~~~~~~~~~~~~~~~~~~~
Time to link up and meet!!
This is a blog hop so if you want to put the linky on your post just click the "Get the Code" at the bottom of the linky.
Your link MUST include your Meet Me On Monday post or it will be deleted!
Remember if you don't have a blog or if you just want to post your answers in the comment section then that is fine too!
~~~~~~~~~~~~~~~~~~~~~~~~~~~~~~~~~~~~~~~~~~~~~