Java over at
Never Growing Old
started this great "meet me monday" meme! I love getting to know different bloggers, but you don't want to start asking a bunch of questions - so Java is doing it for us :) Please join!!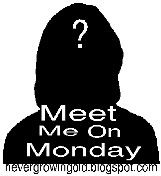 Here are this weeks questions and answers:
1. What is your favorite holiday?


2. What color clothing do you wear the most?



3. What is your heritage?
Adopted - couldn't tell you :)
4. What is your middle name?


5. What is your favorite cookie?
The only cookies I eat are my homemade
chocolate chip cookies
! They are the best - stay soft for ever. They are pictured with white chocolate chips. But one day I thought I was putting in Butterscotch chips and they turned out to be Peanut Butter chips - so that's my favorite way to make them now.


**********************************************

Time to link up and meet!!

This is a blog hop so if you want to put the linky on your post just click the "Get the Code" at the bottom of the linky.

Your link MUST include your Meet Me On Monday post or it will be deleted!

Remember if you don't have a blog or if you just want to post your answers in the comment section then that is fine too!


*************************************************