Before we get to Meet me on Monday - My youngest son just left for a job interview in the next province. It's a 6 hour drive and he hopes to get there by lunch. If you could send up a quick prayer for a safe trip and a good interview it would be much appreciated :)
~~~~~~~~~~~~~~~
Java over at
Never Growing Old
started this great "meet me monday" meme! I love getting to know different bloggers, but you don't want to start asking a bunch of questions - so Java is doing it for us :) Please join!!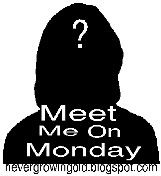 Here are this weeks questions and answers:
1. Do you watch any Soap Operas?
No way. Just don't have time, and can't see the point (sorry). I have enough drama in my own life - don't need to watch someone else's :)
2. What appliance is used the most in your house?
The fridge. Bought a new one with an ice cube maker that gets used every day. Plus Logan (youngest son, 18 years old) is always hungry and in the fridge looking for something to eat :)


3. Do you wear make-up every day?
No, maybe once a year. Mascara makes my eyes burn after about 1/2 an hour. So I don't wear it often.


4. What is your worst pet-peeve?
That's a tough one - I have to many! Which one should I choose?
Whiny children. Really hate going shopping and listening to peoples children whine or cry because they didn't get something they wanted, or don't want to be there etc. My oldest did that

once

when he was about 3 years old. (no I didn't spank him - but he knew I was not impresses and he better not do it again)
Didn't like it then, still don't like it.


5. What is your favorite lunch meat?
Oh dear, another tough question. I don't eat sandwiches, they gross me out. But if I have to make myself one when we go riding the ATV's - it's usually a sliced roasted chicken one - so I guess chicken would be my favorite.



~~~~~~~~~~~~~~~~~~~~~~~~~~~~~~~~~~~~~~~~~~~~
Time to link up and meet!!

This is a blog hop so if you want to put the linky on your post just click the "Get the Code" at the bottom of the linky.

Your link MUST include your Meet Me On Monday post or it will be deleted!

Remember if you don't have a blog or if you just want to post your answers in the comment section then that is fine too!
~~~~~~~~~~~~~~~~~~~~~~~~~~~~~~~~~~~~~~~~~~~~~