Java over at
Never Growing Old
started this great "meet me monday" meme! I love getting to know different bloggers, but you don't want to start asking a bunch of questions - so Java is doing it for us :) Please join!!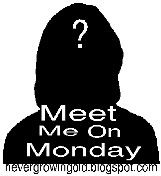 Here are this weeks questions and answers:
1.

What is your favorite sandwich?

I don't eat sandwich's. The bread doesn't always agree with me.
Though when I make Double Decker Grilled Cheese sandwich's for lunch - I will eat that :)

2. What is stashed under your bed/mattress?

Absolutely nothing :) A few years ago we needed a new bed and decided that we would make a wood "box" to put a new mattress on. This way there are no dust bunnies or bounce sheets hiding under the bed!


3. What is your favorite flower?

Orange Gerber Daisy
4. What is your favorite magazine?

I am addicted to recipe magazines! One woman can never have too many recipes :)


5. How often do you weigh yourself?


Never - we don't own a scale.



~~~~~~~~~~~~~~~~~~~~~~~~~~~~~~~~~~~~~~~~~~~~~~~
Time to link up and meet!!
This is a blog hop so if you want to put the linky on your post just click the "Get the Code" at the bottom of the linky.
Your link MUST include your Meet Me On Monday post or it will be deleted!
Remember if you don't have a blog or if you just want to post your answers in the comment section then that is fine too!