Java over at
Never Growing Old
started this great "meet me monday" meme! I love getting to know different bloggers, but you don't want to start asking a bunch of questions - so Java is doing it for us :) Please join!!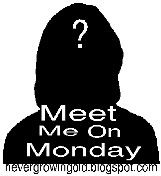 Here are this weeks questions and answers:
1. What is your favorite Fast Food Restaurant?
We have Tim Horton's up here in Canada. It's really to bad they aren't all over the US yet. Their coffee is WAY better than Starbucks and they make the greatest chili, donuts, tarts, sandwiches etc.!!


2. If given a complete freedom to start afresh, what profession would you choose and why?

Right now during the school year I drive a school bus. LOVE my job - wouldn't trade it for anything :)
When the boys were little it was the perfect job for me. If they had a day off school - I had a day off too. Plus the 2 month off for summer - can't beat that!
3. Do you prefer your toilet paper to come over the roll or under the roll?
Um - well - our toilet paper never makes it onto the roll thingy :)


4. What was your favorite tv show as a child?
Walt Disney World Sunday night at 7pm! Wonderful movies!
5. What is your favorite Summer drink?
6 oz Pineapple Juice
1 oz Malibu Coconut Flavored Rum
A Splash of Coke!
Over Ice!
(I don't always measure exactly right)
Link Up Everyone!!