Java over at
Never Growing Old
started this great "meet me monday" meme! I love getting to know different bloggers, but you don't want to start asking a bunch of questions - so Java is doing it for us :) Please join!!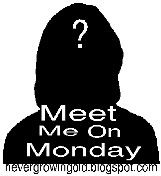 Here are this weeks questions and answers:
1. What do your normally eat for breakfast?

We have pancakes with either bacon or sausages on Monday and Wed.
Eggs and some form of meat on Tues and Friday (I have a bagel with peanut butter on these two days)
Thurs. is sometimes oatmeal, and sometimes french toast.
Weekends are usually cereal one day and something special another day. My favorite special that I don't make to often is Strawberry/Rhubarb Crepes with Cream Cheese Filling

.




2. What kind of car do you drive?

Don't drive cars. 85% of the year I drive a school bus, during the summer and holidays I drive either one of these. We are truck people :)
Nope. (that was easy LOL)
4. What is your favorite ice cream flavor?

I really like Vanilla, because I can add so many things to it. Made some ice cream with chopped strawberries and vanilla oreo cookies for Father's Day! YUMMY!
5. Which TV Channel do you watch the most?
We probably watch Discovery the most. Though right now - there isn't anything on any channel it seems.
***********************************************
Time to link up and meet!!
This is a blog hop so if you want to put the linky on your post just click the "Get the Code" at the bottom of the linky.
Your link MUST include your Meet Me On Monday post or it will be deleted!
Remember if you don't have a blog or if you just want to post your answers in the comment section then that is fine too!