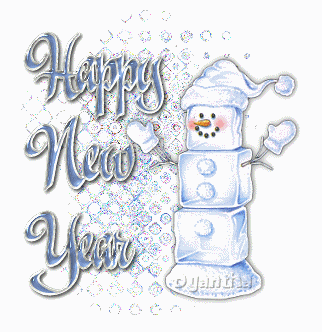 Happy New Year Glitter Pictures
I can't believe how much my Blog has changed since I started it. Can you believe it's been over a year? I can't. Time has really flown by, and blogging has been so much fun!! :) There are so
many wonderful people I "met" in 2009 through blogging, I hope to meet many more in 2010!

Last year I had decided to feature as many shops as possible on the blog. It was amazing how many shops were looking for some free advertising. This year (after Jan.) I'm going to focus on new shops or shops with under 5 sales. If you have a shop that falls into this category (or know of one) and would like a feature - leave a comment on this post or convo me through my

Etsy Shop. Maybe I'll have to do the features on Fridays. I'll call it "Feature Friday" - that would work! If there are enough shops I'll do 2 features/wk. What other day would work? Maybe Tuesday
- but what would I call it? Tuesday Toots? Maybe not :)
There are times when I have some small things to post, you know what I
mean - it just doesn't fit in any where, and isn't enough to do a whole post. So I'm going to start "

Mish Mash Monday

". There will be a MckLinky at the end of each post for anyone who would like to join me! It would be great if by the end of 2010 there where a bunch of blogs that were doing their version of "MMM".
There are many great Give Aways planned for my Give Away Blog! Everything from a Sundial Ring, to candles, scented bears, soaps, coffee, tea, craft supplies, jewelry etc. I'm always looking for shops that would like to have a Give Away - so if you are interested please email me! If you would like some help with hosting your own Give Away on your blog - I'll gladly do that too! I've posted some tips, ideas etc on How to Have a Successful Give Away on the blog. If you have suggestions or questions just post them there!

I found this wonderful site that supports "Mom Made" items!! You can add your shop quickly and easily, see where everyone is from and check out some of the wonderful shops/items that are made by mom's just like you!
Do you have any big plans for 2010? What will you be doing that's new and exciting on your blog?

I hope that we all have an Awesome 2010!!