1)

Let's not repeat last week again - ok? Had to take my computer in to get a "check-up" on Tuesday, and only got it back Friday afternoon! That is just way to long to be without a computer. Did manage to get to the library on Wed. and Thurs. to check emails. But it's really hard to get the emails answered, post on two blogs, plus check out other blogs and comment. Really need to get a lap top so that we have two computers! Can't convince hubby yet.
2)

I received this amazing soap and votive candle in the mail from
Capricorn Soap Company
. Don't you love the way the soap is packaged? This soap is really really nice! LOVE the candle too :) Noticed that she now carries lip balm!
3)

Logan decided one day that it was time to clean their room. With Luke in College - he could do it alone (no arguing about where stuff should go). Didn't realize how many teddies they had until Logan stacked them all up. Told him it looked like a choir :) Wonder if they sing to him at night?
4)

Blog of the week: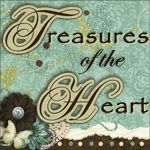 Nancy has a beautiful blog! I love to visit it. She has great posts, features great shops she finds, and is really a lovely woman! You really should check out her blog :)
5)

I haven't received my Valentine swap items yet (from the swap I hosted). Have heard from a few people who have. I will be setting up a MckLinky next weekend, so if anyone has posted about their swap items, they can link to it and we can all see what everyone got! Hopefully a few packages have arrived at their destinations :)
I did receive a package from another swap I did! Got this wonderful assortment of Valentine goodies from Stephanie at
Mississippi Songbird
.


*Chocolates
*Mississippi Delta Cooking Cookbook
*Note pad with 2 magnets
*Avon lotion
*Sweetheart Candies
*Cinnamon Heart candies
*Heart suckers
* Letter "A" wall hanging!
* Cookie mix
Thanks so much Stephanie!!